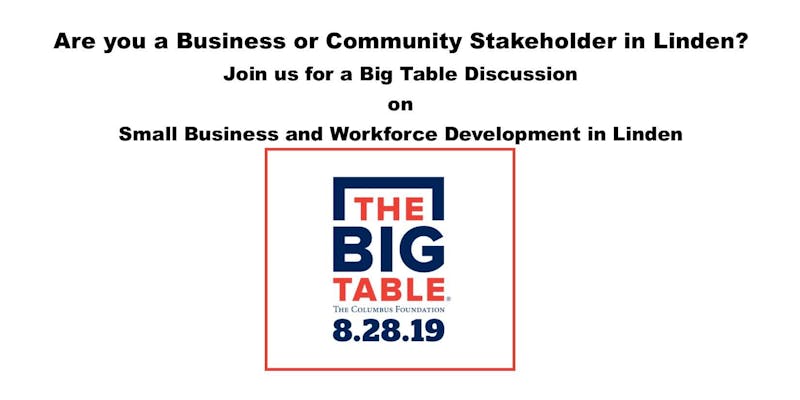 Linden Business & Community Stakeholders – Join us for a Big Table Discussion on Small Business and Workforce Development in Linden.
The Big Table®, a day of community building through conversations designed to connect and inspire central Ohio! Through open, thoughtful conversations, we will spark new relationships and new ways of working together by deepening our understanding of each other and what our community needs.
Have your voice heard as we discuss issues that impact the Linden Business Community and future Workforce Development efforts. Hosted by Greater Linden Business Network (GLBN), Community of Caring Development Foundation & Smart Columbus. Go to The Big Table – Linden Small Business & Workforce Development Discussion to register. 
• How has the lack of viable retail space limited your business growth?
• What support can GLBN give to help you grow & sustain your business?
• How has employee acquisition and or retention impacted your business?
• What opportunities will Intelligent Transportation create to expand business in Linden?
• Has lack of transportation limited your employees from coming to work?
Date: Wednesday, August 28, 2019
Time: 3:30pm – 5:00pm – Join us for dinner after Big Table Discussion
Location: New Salem Baptist Church; 2956 Cleveland Ave.; Columbus, OH 43224
Join us for dinner afterward at New Salem's Community Dinner
About Greater Linden Business Network (GLBN)
GLBN's mission is to connect, grow & sustain established and emerging businesses in the Linden community. GLBN is a member-driven organization of Linden business leaders and community stakeholders that focus on providing access to entrepreneurship opportunities that increase the quality of life for Linden residents. For more information and GLBN's calendar of events visit www.lindenbusiness.org
About the Community of Caring Development Foundation (CCD Foundation)
As the Community and Economic Development Arm of New Salem Baptist Church, the Community of Caring Development Foundation has planted seeds of hope, health, and wellness in Columbus' Linden community and witnessed what can be accomplished when neighbors join together to create a connected community. The mission-based community development foundation focuses on four main pillars: Community Wealth Building, Education (STEM), Real Estate, and Health/Wellness. Over the last three years, the foundation has continued its commitment to investing in the lives of individuals and families by providing access to affordable housing for more than 1,000 families, over 300,000+ meals, $20,000 in community grants and more than $70,000 in academic scholarship awards, as well as reconnecting community residents and resources with the Linden Farmers Market, Linden Community Festival, Linden Classic 5K Walk/Run, Tour de Linden Cycling Tour, and more.
For more information about the Community Real Estate Group contact Bro. Adam Troy atroy@newsalemcares.com or (614) 267-2536.
About Smart Columbus
Workforce Development Board of Central Ohio, in partnership with Smart Columbus and United Way of Central Ohio, has commissioned research by The Ohio State University's Ohio Education and Research Center (OERC) to examine future job opportunities for central Ohio residents brought about by technology and innovation. The research will seek to identify future jobs in industries related to intelligent transportation systems, electrification, internet of things, financial services and healthcare. It will also address the skills needed to fill those jobs, and gaps in current local training programs. For more information visit www.columbus.gov/smartcolumbus
https://callingallconnectors.org/files/2019/08/Big-Table-graphic_620x270.jpg
270
620
Karla Coleman
https://callingallconnectors.org/files/2019/08/CoCDF-blue_wide.jpg
Karla Coleman
2019-08-21 14:53:33
2019-08-23 11:51:52
The Big Table - Linden Small Business and Workforce Development Discussion